Squatty Potty is Still Going Strong!   (Note: Check out the full review here)
Back in 2012,  I made a video on the Squatty Potty declaring my excitement at receiving my first Squatty.   Little did I know the video would go viral and several years later the Squatty Potty would be as well known as Coke.  Well, maybe not that well known 🙂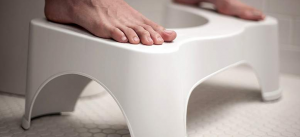 Even Howard Stern has been known to express the satisfaction he gets from his Squatty Potty.   
What is a Squatty Potty? 
It's a custom made stool which elevates the knees positioning you into a squat position.  Squatting is a more natural way of pooping.  LOL!   Yes, I said "poop."
Conveniently sliding out of your way under the toilet, the Squatty Potty gives you an additional useability bonus that most regular stools do not possess.
If you're asking yourself "does Squatty Potty work", the answer is a definite YES!   There are many Squatty Potty reviews out there, but have you looked at the most awesome of all Squatty Potty reviews?
My Squatty Potty Review 
Recent News
In November of 2014, the Squatty Potty was featured on an episode of the Shark Tank.
The Squatty Potty has definitely become Squatty HOTTY!
Check it out on Heavy.com
Squatty Potty Revisited on 'Shark Tank'