Your Super's Super Green Organic Superfood Powder Review
There are lot's of green powders out there.  How do you know which one's are worth your time and money?   I've tried a few so I may be able to help you.
In this review, I will share my experience and opinion on Your Super"s Super Green organic green super food powder mix.    
First, What and Who is YourSuper.com?




Founded by Michael and Kristel,  YourSuper.com offers nine  organic super food powder mixes containing  some of the most robust nutritious whole foods on the planet. 
Each mix is targeted to a specific nutritional need or goal.  Your Super's powder mixes contain simple organic plant-based ingredients with no added fillers or sweeteners.
At age 24, Michael was diagnosed with cancer.  Both Michael and Kristel were professional tennis players at the time.
During Michael's recovery from cancer,  Kristel introduced him to  a whole food diet which eventually brought him to a full recovery.  
Excited about the results, Michael and Kristel decided they had to tell the world about the benefits of eating whole foods especially the nutrient packed super foods.
Michael and Kristel's intent with Your Super is to provide products that are nutritionally equivalent to eating powerful fresh veggies and fruits, yet are able to be consumed with ease like taking supplements.  Using some of the most potent whole foods on the earth,  Your Super aims to provide a much improved way to eat healthy foods.
What is Your Super's Super Green Superfood Mix?
Super Green contains 6 green super food ingredients in a fine powder form.
Pure powder – Nothing more added!  
Organic Wheatgrass –  an antioxidant that fights free radicals that cause oxidative stress.  Also, boosts the immune system. 
Organic Barley Grass – contains plenty of B-vitamins, magnesium, mangenese,  iron, calcium and selenium.
Organic Baobab –  a nutrient dense fruit loaded with vitamin C of the Baobab tree from Africa.  The Baobab tree is known as "The Tree of Life."
Organic Moringa – has essential vitamins, amino acids and minerals.  Fights inflammation and helps to protect the liver.
Organic Spirulina – high source of protein and B vitamins.
Organic Chorella – high in magnesium, iron and zinc.  Also detoxifies heavy metals.
How to consume:
1 tsp in water or in a favorite smoothie.  Also take a look at these suggestions.
Your Super claims that one teaspoon of their Super Green mix is equal to a handful of greens.  Nice! 😉
Organic and Clean?  
I've known some powders that claim to be organic and clean, but when you dig deeper you find that they're not as clean as they state.    
Lets take a look at Super Green:
Non-GMO

Gluten-Free

100% Plant Based

Dairy Free

No Artificial Ingredients

No Fillers

No sweeteners added

Additive Free

Soy Free

USDA Organic Certified

100% Transparent Supply. – ingredients sourced from the following countries: Germany, France and Africa.   
Your Super's Super Green superfood powder mix looks pretty darn clean to me.  If you're looking for a clean green powder, this appears to be the one.
What do you think?
Super Green Superfood Mix Nutritional Content (1 tsp [5g] serving)
Calories 15

Fat 0g

Sodium 0g

Carbs 2g

Dietary Fiber 2g

Protein 1g

Iron   1mg

Vitamin A   585mcg

Vitamin K   9mcg

Calcium  73mg

Potassium 122mg

Vitamin C  5mg

Folate  35mcg
What I Disliked About Super Green Mix
I wish they would give me a 50 gallon can for 30 bucks….LOL!
Really!  All jokes aside,  at this point, I have no dislikes.  
Does that sound disingenuous?   
Well, okay, here's one thing I noticed. 
The container wasn't completely full.  I estimate it was about 85 -90% full.  But some settling is expected.   
Your Super explains that you are getting the exact amount as stated on the can.  They do not fill close to the top due to their powders not having filler oils in them.   
Because other powder makers use oils in their powders, it make it easier to pour the contents into the can thus allowing them to fill to near the top.    
What I Liked About the Super Green Mix  ❤
Tasty.   Let me start by saying, "Taste is subjective."  To me. Super Green taste is fresh, light and earthy Also, for me, green powders with chorella and spirulina have an overwhelming "lake algae" smell and taste.  Reminds me of  fishing  near stagnant water by the lake…Yuck.  However, you don't get that taste with Super Green. 
Super clean and pure ingredients as stated above.  When you open the container, it smells fresh, looks fresh and as I previously stated…Tastes fresh!
Convenience.  Did you know you can get Super Green and Your Super's eight other super food mixes in convenient travel packs?
Versatility – Super Green can be used in a variety of ways.  Smoothies,  sprinkled on dishes and many other ways.  
No sugar or added sweeteners.  None!   Many times, in an attempt to make a green powder more palatable, natural or substitute sweeteners are added.  
Packaging….Yes!…Packaging!.   I don't know about you but this makes a difference for me.  Simple, clean, attractive and functional.  Easy to remove caps that tightly re-seal. 
Giving Back Program.  Working in conjunction with Action Against Hunger,  YourSuper gives away a Plumpy Nut bar to fight hunger for each order you place.
The Founders Michael and Kristel, who are very passionate about there company, product and customers.
Should You Use Your Super's Super Green Mix
I've read somewhere that 80% of us are not getting enough greens in our diet.  Hmmm?
When I first started with smoothies and juicing,  I was adamant about using fresh organic veggies and fruits.  
However, after several years of the smoothie life, I know this is not always possible or convenient.  Preparation of smoothies and of juicing requires time and planning.  Many of use do not have this time.  Especially when travelling or just living your busy life.
A viable alternative, green powder mixes are , in my opinion, the best substitute without losing much in nutritional value that fresh veggies and fruits provide.   However, as you may know,  not all green nutritional powders are the same.   I've actually changed my position on a few I've consumed and recommended in the past.
Okay, I have a few questions….?:
Are you searching for an easy and convenient way to get quality power-packed nutrition into your life?

Does organic and clean matter to you?  

Are you able to acquire the quality of greens into your diet each day that compete with the super foods in Your Super's Super Green mix?  

Do  you have convenient access to all six of the superfoods contained in Your Super's Super Green super food powder mix?
Answering yes to any of these questions, you may consider trying Super Green.
For me, the convenience factor combined with the outstanding quality has sold me on the Your Super's Super Green Mix and also on the entire line of YourSuper.com nutritional superfood mixes.
Where to Buy Super Green and Get

15% Off

Your Order?
So, if you are convinced or just curious, I've got a special offer for you below.
If you purchase from YourSuper.com,  here's special discount code for 15% off your order: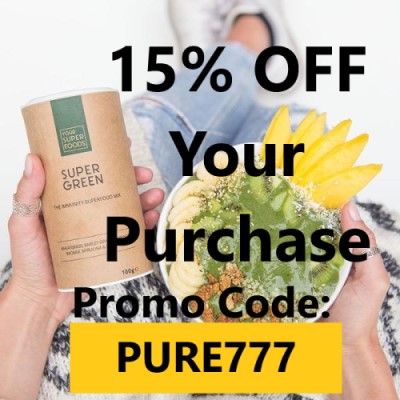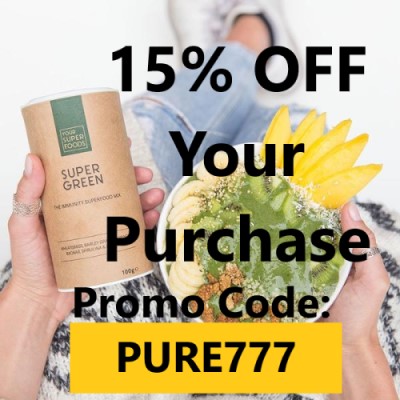 Use Discount Code: 

PURE777 

 (No expiration)
Please use it!  Share it!   Give it to the entire world…LOL!
Note: The discount code is valid only at YourSuper.com       
This is my way of saying "Thank you" for visiting my website and reading this review.

You can also purchase Your Super' Super Green mix on Amazon.   


(Note: T

he discount code is not valid at Amazon) 
Before you go, please take a look at my Youtube review:
Hope you found this review helpful.
Thank you for visiting GoLivePure.com
Please leave a suggestion, comment or question below.

Blessings to you,
Allen Williams
GoLivePure.com
GoLivePureFB
allen@golivepure.com