Living Streams Multi Blend Liquid Probiotic | The Best Probiotic Supplement On the Market?
Product: Living Streams Multi Blend Liquid Probiotic
Website: http://www.livingstreamsmission.com
Founder and Creator:  Wayne Blakeley
In this review, I give reasons why I believe Living Streams Multi Blend Liquid Probiotic is the best I've come across.
I will talk about the following: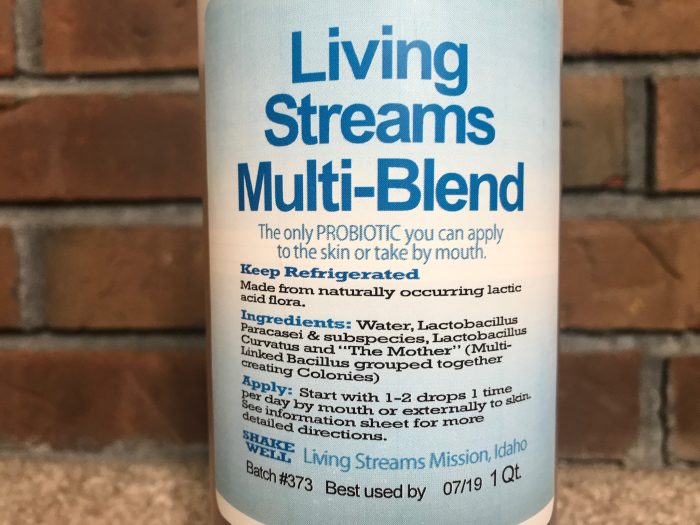 What Are Probiotics?
Probiotics are the micro-oganisms (live bacteria) that release the substances beneficial to producing healthy flora within the your intestines.
You may be more familiar with probiotics counterpart, antibiotics, that are often  prescribed by your doctor to cure a bacterial illness.   Antibiotics kill the illness by destroying the bacteria causing the sickness.  However, antibiotics also kill many of the good bacteria crucial to keeping your intestinal flora balanced.  When this happens, you are susceptible to more sickness unless you quickly replace that good bacteria.
Probiotics are the answer to establishing a healthy intestinal flora which also equates to your overall wellness.   Have sick bowels, have sick body.
For example,  a friend of my wife healed her severe facial acne by adding a regimen of probiotic supplements to her diet.   That's just one example.  Their are many more testimonies of the benefits of probiotics.
Also, if you're having chronic digestive issues, probiotics may be your long sought after solution.
About Living Streams Multi Blend Probiotic
Living Streams Multi Blend liquid probiotic claims to be safe and natural specially formulated in it's complete form with no additives, preservatives or anything taken away.    The nutrients contained within are in a form easy for your body to assimilate and 100% LIVE.
Living Streams Multi Blend Liquid Probiotic states the secret to the success of this probiotic is the "solution" the bacteria produces.  According to Living Streams Multi Blend Probiotic, it's not the number of or specific bacteria that makes the difference but the effectiveness of the solution they create in your intestines.  Because it is not a full-spectrum antibiotic, this probiotic sets itself apart from others yet professes to be more effective.
So, Living Streams Multi Blend Probiotic is the solution/by-product of the natural probiotics.  T his solution is many times more powerful than what the bacteria in the gut can produce naturally.  This solution super-charges your present bacteria to produce more of the anti-effective substances creating a healthy intestinal flora breaking down undigested food  therefore exponentially improving your overall health.
Living Streams Multi Blend Probiotics Benefits:
Supports and aids healthy digestion.

Restores and balances intestinal flora.

Beneficial to regular bowel movements.

Supports the immune system.
Living Streams Multi Blend liquid probiotic Ingredients: 
Water. Lactobacillus Curvatus , Lactobacillus Paracasei & Subspecies of Paracasei, and "The Mother" (Colonies of Linked Baccillus).
Living Streams Probiotics does not guarantee any results and will refund your purchase if you're not satisfied.
How to Use Living Streams Multi Blend Probiotic
Living Streams Multi Blend Probiotic is also unique by the many ways it can be received into the body:
Orally (by mouth)

Applied to the skin (Spray)

Eyes

Ears

Nose

Lungs
Directions for Use: Begin with 1-2 drops one time per day by mouth or externally to your skin.  If pregnant, do not use.
As you progress, you may increase the amounts.
Be aware that you may experience detox symptoms, especially if you exceed the recommended dosage:
Nausea

Mucus explusion

Body aches and soreness

Headache

Tiredness
This is normal and temporary.  If needed, reduce your intake then slowly increase the dosage.
My Living Streams Multi Blend Probiotic Experience
My former encounters with probiotics have been less than spectacular.   I experienced little to no results.  Maybe they were cheap crap probiotics…LOL!   Nonetheless, for me, they weren't worth it.
However, my opinion of probiotic products has profoundly changed since I've come upon Living Streams Multi-Blend Liquid Probiotic.
Unlike any other probiotic I've ingested in the past, upon taking one drop of Living Streams Multi Blend Probiotic, I felt an immediate tingling sensation in my ears and sinuses.  Also, a few minutes following, I began to experience chills.
In my past detox experiences, these symptoms were always signs of my body ridding itself of bad stuff (detoxing)….A good thing!
Later, I took 2 drops experiencing much of the same.  In addition, at bedtime, I noticed my gut was much calmer than in times past.  By much calmer, I'm saying is wasn't gurgling and having spasms.
A day later, increased the intake to 1 teaspoon (not advisable for everyone) knowing I'd most likely experience a more intense detox reaction.
Whew!   Did I ever!
The glands in my neck below my jaws became sore with flu-like symptoms following.    Since I had taken well over the recommended dosage, I expected to experience severe detox reactions.   No worries.  It's the way I do things…LOL!   I don't advise you to do the same.
Challenges
Detox Reaction: Each individuals reaction will be different according to what's going on in your body.   Living Streams Multi Blend Probiotics are safe but must be used wisely.   Upon taking one drop, my wife experienced a bit of dizziness and heaviness.   She's progressing at a slower pace.  Fatigue, nausea, skin eruptions and malaise or some of the symptoms I suffered upon increasing the amount of Living Streams Multi Blend Probiotic.  However, I just reduced my intake until these symptoms subsided then slowly increased the amount. Living Streams Multi Blend Probiotic is very powerful.   Because, probiotics help to cleanse your body of toxins, you will experience some of these detox symptoms.  It's a good sign, however can be very uncomfortable.
Not Convenient:  Due to being in liquid form, Living Streams Multi Blend Liquid Probiotic is not as convenient on-the-go.
Refrigeration Required: Living Streams Multi-Blend Liquid probiotic should be stored in the refrigerator.  Although in a podcast from a few years ago, I heard Wayne Blakely, the creator, explain that the refrigeration keeps the flavor.  Not being refrigerated doesn't decrease it's effectiveness.  However, the label and website suggest refrigeration, so it's probably best to do so.
Highlights
Check out the positive changes that took place in the following days:
Glowing skin.  My skin became shiny and vibrant.  BTW, you can spray onto your skin…That's cool!
Cleared Sinuses.  Less congestion.  Less morning time mucus w/ coughing.
Digestive Tract.  Nighttime spasms and gurgling diminished.
Overall Vibrancy:  A joyful countenance.  Feeling alive!
Also, at my place of employment,  a cold epidemic broke out affecting most of my co-workers.    Yet, I did not experience any symptoms of a cold the entire time.  Not one!…NADA!
Did Living Sreams Muli-Blend Liquid Probiotic prevent me from catching a cold?
Hmmm?  I believer so.  😉
Is Living Streams Multi Blend Probiotic For You?
My goal here is to provide you the information to make an informed decision. 
In my opinion, so far , Living Streams Multi Blend Liquid Probiotic is the best on the market.
I strongly suggest  you to try it.
Where to Buy Living Streams Multi-Blend Probiotic?
Click here to purchase Living Streams Liquid Probiotics
Living Streams Multi-Blend Liquid Probiotic comes in multiple options:
(Picture above is my 32 oz refill bottle.  Dropper bottle not included.)
2 0z bottle with dropper
4 oz bottle with dropper
8 oz bottle with dropper
16 oz refill bottle no dropper
32 oz refill bottle no dropper
Thank you for reading my review.
Please leave comments below.
Blessings to you and please leave a comment or question below.
Allen Williams
GoLivePure.com
Disclaimer:  The information shared at GoLivePure.com is not intended as professional medical advice.  Changing your nutritional intake, implementing any alternative health practice presented here at GoLivePure.com is done at your own risk.