How Can You Naturally Strengthen Your Immune System?
With the recent pandemic (coronavirus-COVID19) attacking and shutting down the whole world,  I begin to re-think how I'd been eating lately.   Understanding that much of health is related to what I eat.  Right away, the first thought that came to mind, "Get your act together chump!  Eat better!"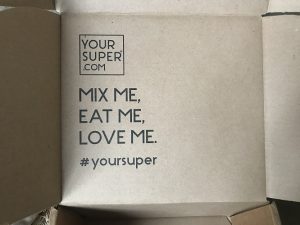 I don't know about you, but in the last year I'd fallen off in my healthy eating habits…Ugh! 
Like me, you may be searching for a way to get back on track or just improve on what you're already doing. 
Knowing certain foods have detoxing and healing qualities, especially many, as they call them "superfoods", I checked one of my trusted sources for obtaining organic nutrient-dense food – YourSuper.com.    
In this review, I'm going to tell you about my experience with Your Super's Immunity Bundle.
I will talk about:
The Your Super Immunity Bundle claims to offer powerful organic superfoods that will help to strengthen your immune system.
Let's check it out!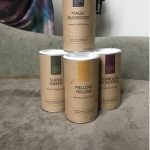 Product: Your Super Immunity Bundle
Company: YourSuper.com
Price:  $119 USD  One-time / $95.40 USD Monthly Subscription
Rating:  4 of 5
What Is the Your Super Immunity Bundle?
The Immunity Bundle is a product of the company, Your Super.  Your Super specializes in organic superfood powder mixes.  Your Super touts itself on the purity of its superfood mixes that contain no GMOs, fillers, sugars, or any added ingredients. 
All of Your Super's superfood mixes are processed in a peanut, tree nut, soy-free, corn-free, gluten-free facility.
For you living in the USA, all of Your Super's superfood mixes are Certified USDA Organic.  
Your Super states:
"We Are On a Mission To Improve People's Health With The Power Of Super Plants."
The Immunity Bundle contains four of Your Super's superfood mixes; each containing six superfood ingredients.   Your Super claims these mixes are "loaded with immune-boosting benefits."
What's In the Your Super Immunity Bundle?
The Immunity Bundle Contains 4 Super Food Mixes:
1. Super Green
Super greens and tons of micronutrients from: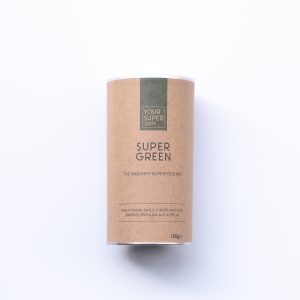 Wheatgrass 
Barley Grass 
Baobab 
Moringa 
Chorella
Spirulina
2. Forever Beautiful   
Antioxidants and tons of Vitamin C from: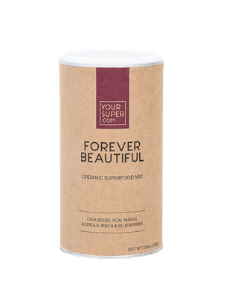 Chia Seeds
Acerola Cherries
Blueberries
Acai
Maca
Maqui


3. Mellow Yellow 
Reduce inflammation and reduce stress from:

Ashwagandha
Turmeric
Cinnamon
Ginger
Lucuma
Pepper


4. Magic Mushroom  
Lessen stress and increase immunity from: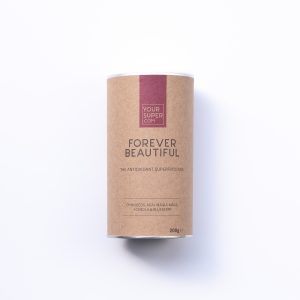 Cacao
Chaga
Ashwagandha
Reishi
Cinnamon
Lucuma
Also included:

5. Digital copy of "Everyday Super Smoothies" containing 25 plus recipes.
6. Daily superfood routine of Michael and Kristel (founders of Your Super)
7. 30-Day, Risk-Free, Money-Back Guarantee.
PROs:
Easy to use.  Just scoop the amount needed.  Dash into a smoothie, sprinkle on a salad, or add to favorite dishes.
Recipes. If you like to create your own meals, there are plenty of great recipes offered.  
Efficient packaging.  Easy to access with tops that fit securely.  Smaller containers due to no fillers or added ingredients.  Depending on the mix, each has 30 to 40 serving per container;  comparable to other brands that contain more but require utilizing larger containers due to having more fillers and added ingredients.
Great price.  Each Your Super mix bought separately ranges between $30-40 USD.  Currently the Immunity Bundle price is $119.00 USD.
Your Super Team – The support team and other Your Super users are there for support and ideas.  Via Facebook and direct contact with the owners.
Feeding the Hungry.    Your Super is partnered with Action Against Hunger.  Each time a mix is bought, Your Super donates a Plumpy Nut food bar to people in need.   
CONs:
Taste. The Super Green (or any of these mixes) is not meant for anyone with a sweet tooth.  Super Green has a grassy, hint of algae(Spirulina and Chorella) and lemon taste  For some of you, this may require time to get an acquired taste.  I put this in the CONS category because I find many to dislike the earthy taste.  Since I like it, maybe I should have listed it in the "Pros" category…LOL!    If you like it flavored and sweetened, you will most likely dislike Your Super mixes.  


Containers Not Full.   Upon opening the mixes, you will notice it's only 3/4 full.  Hmmm?  Your Super explains – they fill by weight and not volume.  Unlike other brands that have extra ingredients or fillers such as oil which enables the powder to pour like liquid making it easier to fill the cans.  Since it's more powdery, more powder tends to fly off causing waste.   Good news – Each Your Super mix still has the proper weight and servings.
Will the Your Super Immunity Bundle Boost Your Immunity?
Really, I have no concrete way of proving to you the Immunity Bundle has had any effect on my immune system.  As I write this review, I'm not sick…LOL!
It's generally known that eating foods high in nutrition enhances your chances of having a stronger immune system thus granting you a greater ability to ward off viruses and bacteria that cause sickness.
I figure as long as I continue consuming the Your Super Immunity Bundle with its abundance of superfoods,  I'm sure I will continue to experience improvement in my health along with support for a strong immune system. 
Frankly, the Immunity Bundle has gotten me back on track to eating healthy again.  Each morning, I've been using one or more of the mixes in a smoothie.      
Throughout the day, I may sprinkle a chosen mix into a soup, a dish or drink.  I'm still experimenting.  😊
On separate occasions, I tried the Mellow Yellow and Magic Mushroom on my baked sweet potatoes.  I prefer the Mellow Yellow.   Also mixed Magic Mushroom into my blueberry yogurt…Not bad!    
So far, I'm feeling revived.  Much of the stiffness and soreness has been alleviated.    
My sleep has also improved along with fewer problems with my digestive system (acid reflux).    At night, I've been adding a tsp of Mellow Yellow to warm nut milk for a calming effect before going to bed.  
I've also noticed a greater ability to focus.
So, what do you think?
Does the Your Super Immunity Bundle sound like something you want to try?
Still have doubts or questions, please leave a comment below. 
If you're ready to purchase the Your Super Immunity Bundle,  please check out the offer below with a discount code.
Where Can You Buy Your Super's Immunity Bundle?
My Special Offer to YOU!
Get 15% OFF Your Purchase
Use Discount Code:

PURE777




Thank you for visiting my blog and reading this review.  I hope it has helped in some way.  
Please leave comments or questions below.  I will get back to you as soon as possible.